The Eastward Ho has come to the Marina at American Wharf in Norwich, CT. A Breast Cancer Therapy Boat Blessing will be performed September 20th 11 am; Senator Cathy Osten will read the Citation from the Connecticut State Legislature in honor of this program to serve breast cancer survivors.
The Public is welcome to attend; the program will be visible from Brown's Park across from the Marina for those unable to get to the Marina.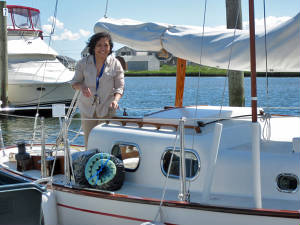 Dr. Briones Welcoming You Aboard!
The Research has been published!
Alternative and Complementary Therapies December 2013
Wave Motion as a Stress Intervention for Stage II and Stage III Breast cancer Survivors. Pages 301-308.
Del Function salutes the PEMA Research Team: Dr. Scott Kurtzman, Dr. Leah Briones, Susan Lee-Baldassini LCSW and Collie Lutynski and all the fabulous breast cancer women who participated.
Tina Detelj Wtnh TV interview talks about our research, therapy and salute to those "valiant" women who fought and lost their battle, in the Link below about "using a boat to de-stress".
Cancer Survivors Use Boat to De-Stress: VIDEO!
What the Therapy is all about!
Hear what somene else had to say about our relaxation therapy!